When it comes to deburring and polishing lathes, you won't need anything other than a Twister Speed Lathe from Overbeck Machine Tools. Perfect for your deburring and polishing needs, you can choose between the two Twister models:
Industry Leading.... Field Proven Design and Function

"No hesitation"
forward and reverse
switching

Low-voltage
switching for
maximum reliability

Regenerative
speed
controls
The LT-1BR and LT-2AR have these quality features but vary in size, so take your pick at which machine can enhance your production process.
Twister LT-1BR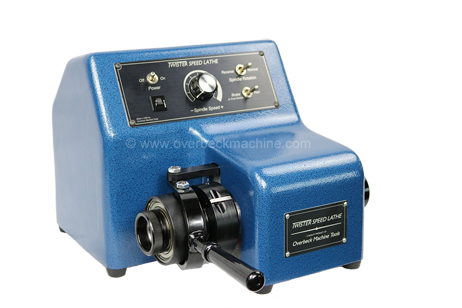 The Twister Speed Lathe LT-1BR comes standard with a wide speed range, 5C collet closer and a remote footswitch. This allows for fast spindle speeds and rapid cycling: 0-2600 RPM in 1 Second, 2600 RPM to a dead stop, 1 second! That means with a collet and small part installed, you can start and stop 30 times a minute.
The LT-1BR is also lightweight compared to other speed lathes – at only 53 Lbs on your workbench with space requirements of 13" wide, 11" high, and 15" deep. The LT-1BR can ship via UPS because the box is only 63 Lbs in the shipping box. In stock now and ready to ship. Model options may take up to 2 weeks to configure.
Twister LT-2AR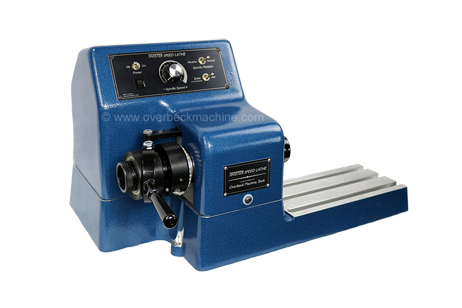 The other version of the Twister Speed Lathe is the Twister LT-2AR. This is the bigger brother to the LT-1BR with the added bed. This offers increased stability and weight that aids in polishing longer or larger parts. This version comes standard with familiar features like the 2600 RPM range, 5-C collet closer, remote footswitch, and 110-volt operation — but it's ready to tackle more substantial projects. The spindle height is taller than the Twister LT-1BR, at 4.125 inches from spindle center to bed. The spindle also has a maximum TIR of .0005 inches.
It's also impressively larger, coming in at 24" in wide, 14" high, and 15" deep — nearly twice the width as the LT-1BR. It has a weight of 69 pounds on the bench, so it is still light enough to move from work area to work area. The Twister LT-2AR is shipped in a wood crate that has a weight of 125 Lbs and dimensions that still make it shippable by UPS or FedEx.
The Overbeck Difference
The Twister is a full-featured speed lathe, designed exclusively for quick, multi-purpose operations, such as burr removal, polishing, and gaging of small parts with hand-held tools. Rugged and easy to use, it allows work to be performed close to your CNC lathe or machine cell.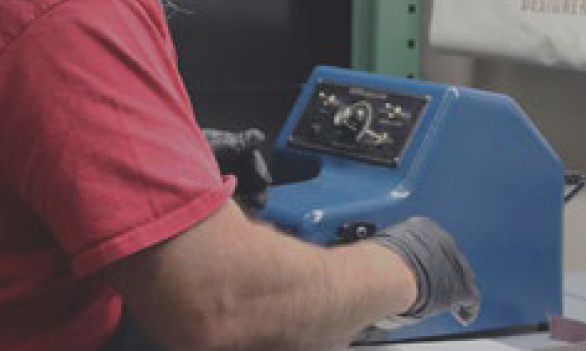 The Twister's quick setup and rapid cycle time permit the processing of parts in less time with less effort. With a standard speed range from 100 to 2600 RPM, the Twister is ideal for the two most common operations: deburring and polishing (deburring is best done at one-fifth the speed of polishing). A heavy-duty footswitch is included as standard equipment, and several specialized machine options are available: high speed, low speed, twin foot switch, variable speed foot switch and 220 volt operation. (Options must be specified at time of order, Options are not field installable).
Twister Machine Options and Upgrades
When purchasing your Twister speed lathe, you can add these extra options on whichever product you choose.
Note: some options are exclusive and as such can't be combined on a single Twister model.
HS Option
If you're looking for higher speeds, then consider the High-Speed Model addition, which has a range from 0 to 3,500 RPM in seconds — making it ideal for polishing small diameter parts.
UL Option
However, the Twister doesn't stop there: you also have the option to buy an Ultra Low-Speed Model with a range from 0 to 800 RPM with the highest torque possible in the Twister lineup. The Ultra Low-Speed Model uses a toothed belt to guarantee no slippage. This works well for polishing larger diameters or softer material like plastic.
VF Option
Also, with the Variable Speed Footswitch Model, starting and stopping projects has never been easier. With the push of the pedal, you can control the spindle speed, which frees up your hands to focus on the project. This option works like the gas pedal in your car. Push down and you get more spindle speed.
TF Option
You'll also find that the Twister has Twin Foot Switch Model, which provides rapid forward or reverse direction change. This way, your hands are still free while you can focus strictly on deburring and lapping. Each foot pedal controls a single spindle direction. Press one pedal and you get forward spindle rotation, press the other and you get reverse rotation. This feature comes in handy when you need to lap threads.
220 Option
Keep in mind that for Export or other factory use, our standard 110 single phase voltage will not do. The Twister is offered in 220 single phase voltage for these situations, as this option is used in 99% of machines used in outside the USA. If you need this option, it can be factory set for the Twister LT-1BR or LT-2AR machines.
The Twister speed lathe, you can do just about anything.
Both Twister models are ideal for polishing or deburring, and also serve as excellent machines for small parts assembly.
With the speeds and ability to control everything with the push of a pedal (or the slower way: front panel switches), your productivity and efficiency will increase dramatically — guaranteeing that you get more parts per hour, lower electrical consumption, and ease of mobility with the low weight and footprint of the Twister.
Our Slogan is:
"Any way your turn it… Our Twister Speed Lathe will polish it!"
Call Overbeck Machine Tools and tell us what you need to do, and we can guide you to the right machine for your application.
Overbeck Machine Tools, the makers of the Twister machines offer flexible payment options using all major credit cards, ClickLease, or on approved accounts with Net terms. We ship using UPS ground for most orders.
If you need it right now, UPS Red or Blue is also possible, but at a much higher cost.
Remember, your Twister LT-1BR is 64 Lbs in the box and the LT-2AR is 125 Lbs in the wood crate. Most orders ship out the same day, with the exception of the LT-2AR, machine options, or 220 volt Twister Models. Please allow up to 2 weeks for Twister models with options.